Children's Basketball School
Children's basketball school of basketball club "Donetsk" was founded in the same 2007, in which the owner and president of the club became Sergey Vladimirovich Dyadechko, and it is no coincidence. For the "sick" for basketball in his childhood Sergey Vladimirovich Dyadechko this project has always been no less important than the professional team. And even the most difficult times for the club the least reflected on the Children's School, funding for which the president has always granted. The club could sooner reduce the budget of the first team, than to save on their young pupils.

Through his own experience Sergey Vladimirovich Dyadechko knew that love for sports begins in early childhood, but then remains for life. And creating a comfortable environment for children engaged in favorite sport, you can give them the priceless moments of happiness, even if they never become great champions. At the same time, a successful career in business has led the President to conclution that such investments in the future will always pay off handsomely, though often not only financially.

In the first year of the CBS basketball club "Donetsk" team won prizes in all-Ukrainian competitions, and later regularly supplied club museum with different trophies. Sculpted over the years managerial skills helped Sergey Vladimirovich Dyadechko to organize multilevel branched structure of children's school, which covered the entire region. It has the branches not only in Donetsk, but also in Makeyevka, Gorlovka, Kramatorsk, Druzhkovka, Dokuchaevsk, Dimitrov, engaged more than 500 children in various age categories, which were led by experienced and professional coaches.

Due to the high authority of Sergey Vladimirovich Dyadechko in the basketball world, he has managed to invite to lead this ambitious project talented Serbian specialist, who for many years worked as a coach of junior and youth national teams of Serbia of various ages, in particular, brought up one of the best players in Europe modernity Milos Teodosich.

The combination of Sergei Vladimirovich Dyadechkos' organizational skills and financial support together with qualification of trainers led to the fact that in 2013 the CBS basketball club "Donetsk" team became the champion of the most prestigious European tournament for young basketball players - junior Euroleague. The leaders of the composition were Vitaly Zotov, today defending the colors of Ukrainian Super League leader "Budivelnik", Sergei Pavlov, involved into the main part of the champion of the country "Chemist", and Anton Musienko, who plays for "Mykolaiv". In addition, a successful career in the adult basketball made such pupils of children's school as Alexander Antipov, Igor Boyarkin.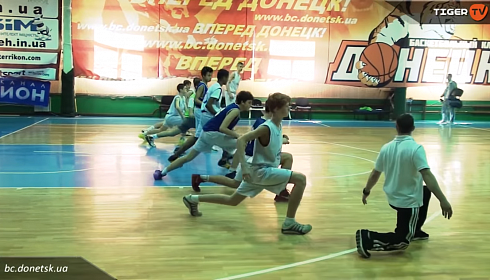 Go to the gallery
LATEST NEWS