Sergei Dyadechko Fund will support the development of squash
The founder of the DSF fund Ukrainian businessman Dyadechko Sergey pays special attention to those activities of his organization which develop relatively new for Ukraine sports, interest in which can not yet compare with the historically more popular.

A special place among them occupies squash. After all, it is simultaneously a sport of the highest achievements for professionals, as well as an extremely interesting and gambling way of maintaining an excellent physical form for all comers. This seemingly simple, but very exciting game requires both good physical condition and speed, as well as the ability to quickly make decisions and anticipate the actions of an opponent. In recent years, the popularity of squash in Ukraine has grown significantly. Thousands of adherents of a healthy lifestyle take part in amateur tournaments, where you can check your level and compete for prizes. And for professional athletes organized a lot of competitions throughout the year.

Wishing to support the rapid pace of squash development in our country, the DSF Foundation opens a program of cooperation with the Squash Federation of Ukraine. As a first step, the DSF Fund will sponsor a live broadcast of the finals of the Ukrainian Squash Championship in 2017 on the country's leading sports TV channels and popular Internet services. This year, for the first time, the most prestigious national tournament of the year will be held in the format adopted at the top competitions around the world. The competitions will take place in only two categories - male and female - without additional division into levels and ages. It is expected that the strongest and titled Ukrainian squash masters Konstantin Rybalchenko, Ruslan Sorochinsky, Denis Podvorny, Valery Fedoruk, Dmitry Shcherbakov and young and promising Artur Sikora and Dmitry Pogrebnyak will take part in the championship.

One of the main features of squash is that it is available to absolutely all sports fans regardless of gender or age. We hope that by joining forces, the DSF and the Squash Federation of Ukraine will bring interest to this dynamic and intellectual game among our compatriots to a new level and attract many new squash fans to the gyms.

Be with us, and together we will grow a healthy generation of Ukrainians!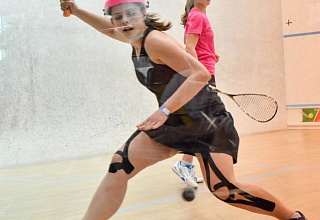 Go to the gallery
LATEST NEWS